Timber Ceilings in Perth. Ceiling Lining Panels.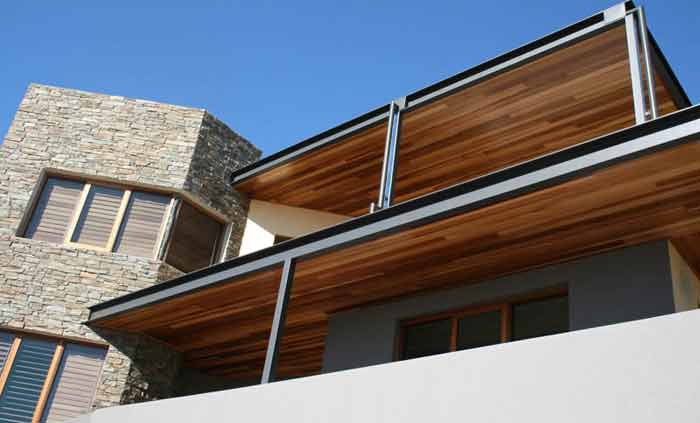 The addition of a well installed timber-lined ceiling adds immediate elegance to any area. A Timber ceiling creates a clean, modern look which is the height of home decor sophistication. Timber Ceiling Panels are the way forward for many, for you would need to be an expert to tell the difference between Ceiling Panels and Custom made timber ceilings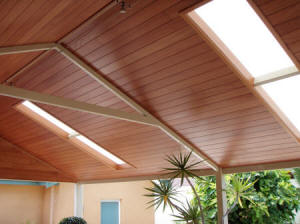 Glosswood lining with Lights-wells - using timber ceiling panels
The majority of our work is lining existing steel or timber framed patios. However we often transform a standard, boring, flat gyprock ceiling to pitched Cedar lined masterpiece. Take a look at the example below – which would you prefer?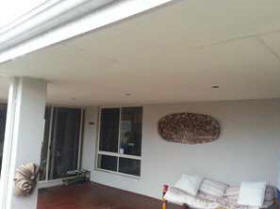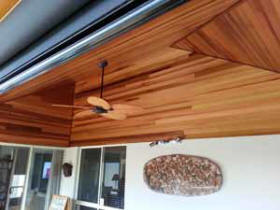 Our expert carpenters will ensure an immaculate finish to your timber ceiling lining - even the most intricate projects. Many ceilings in Perth have awkward shapes, angles and pitches which can be challenging for the home DIY/handyman, whereas these are 'all in a day's work' for our carpenters. Light Wells can be included for a natural lighting effect
We have an established supplier network and have the ability to provide the customer with exactly the finish they require for their lining of ceilings with timber panels. Our projects are completed using Gloss-wood pre-finished lining boards which are available in Jarrah, Tasmanian Oak, Cedar and White finishes. We also use solid Cedar for ceiling lining which is a traditional favourite. However if our client has a specific ceiling lining board requirement, we can work with this too, and that includes suspended ceilings installation.
As with all projects, we are flexible as to how much design input our clients require. We are happy to advise on lighting, insulation, fans and design. If you have a specific design schedule we will work with this. Whether it is straight forward gyprock to timber ceiling upgrade or an ornate timber lined patio project where you have a specific vision, we are here to help.
---
A few of our other Timber Lined Ceiling Panel Projects in Perth