We are one of the few decking companies in Perth who have access to, and are competent in fitting, Fijian Mahogany Decking. This is a beautiful timber which has an extremely smooth texture and can be oiled as an ongoing maintenance regime, or simply left to fade to a natural earthy silver colour.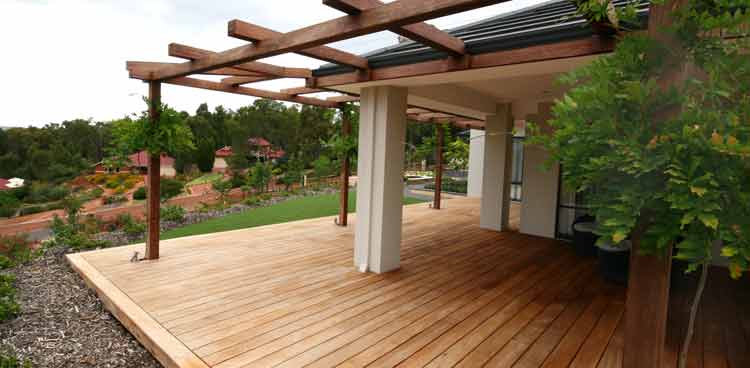 We have had fantastic follow-up reports from our clients who often comment on the lack of surface cracking and pleasant 'feel' of Fijian Mahogany under foot - even if it is left untreated. This makes it an ideal timber to use as decking, seating, day-beds or screening.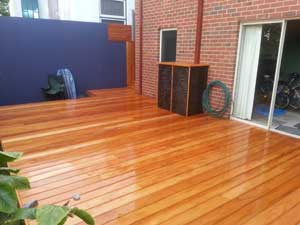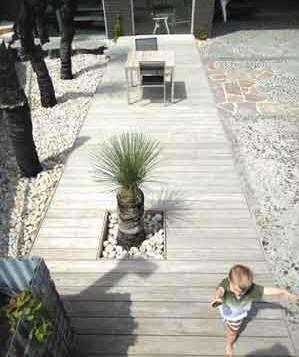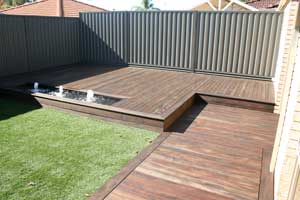 Fijian Mahogany is not an easy product to work with and is not really suitable for DIY applications. Perth Outdoor Installations have vast experience in using this product which will ensure the best possible result with every decking project we undertake.
Oiled Mahogany Decking
We always oil our decking timber on all four sides prior to installation. This accentuates the pale orange colour of Fijian Mahogany. If you want to keep this colour you should continue to apply oil when the timber begins to fade, or add a Mahogany tint to the oil when applying.
Fijian Mahogany decking will quickly fade to a silver colour - especially when exposed to full sun. Many people prefer this colour as it provides a nice clean, earthy addition to the decked area. The added bonus is you do not have to do any further oiling!
For a different look Fijian Mahogany can also be stained charcoal. This is done by adding a charcoal tint to the oil prior to fitting. Depending on your taste and colour palette, charcoal decking may be that little bit of difference that will make your outdoor area stand out from the rest.
Samples of Decking
As with all the decking timbers that we use, we are happy to show samples of the products during a quotation visit and provide details of previous decking jobs we have completed in Perth. In the picture on the right panel at the bottom, a small but functional deck pool was built into the deck - using controlled fountains to give the peaceful sounds of water.
Colour Importance
A small detail that makes for a different deck - yet not simply a gimmick! The picture on the right shows how a charcoal coloured deck can enhance everything around it. Colours are increasingly important for outside decor, both to blend in with the current scheme or add a new dimension to the outdoor space. With our wide range of materials, we are sure that we can contrast with, or compliment existing design idea. Hopefully, we can even open your eyes to the possibilities that exist for your own decking project.
Mount Pleasant Fijian Mahogany Deck Project |
Other Mahogany Deck features - May be clicked for enlargement.